Pritchard's Food, Drink, Lodgings, and Pawn: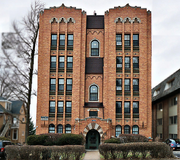 Theoretically is run by Pritchard and his wife (who is rather scarce), but he farms out 90% of the work to other interested parties.  It looks like a six-story apartment building, where the majority of the first floor has been split up between a pawn shop and a tavern.  The rest of the building is rentable housing in various forms, available by the day, week, or month.  The tavern is run by Hope.
Shares electricity with the rest of the block; generator in the basement.  Generator supervised by wizard Rob Thunderbloom Tom Ace, who ensures the block stays powered in exchange for his lodgings.
The establishment caters mostly to newcomers, and there are numerous pamphlets available on all kinds of topics, in the area between the pawn shop and tavern.  Particularly ones that describe Portshire, how not to get robbed blind, and how to deal with "weather" and fog.  There are also maps to public portals to other dimensions, and to people who offer temporary portal services.

Generally accepts the barter system.
Though it isn't ENTIRELY official, rumors persist of one of the waiters/bartenders in the food area offering a special meal challenge for those courageous enough to let someone else pick their food...
Community content is available under
CC-BY-SA
unless otherwise noted.